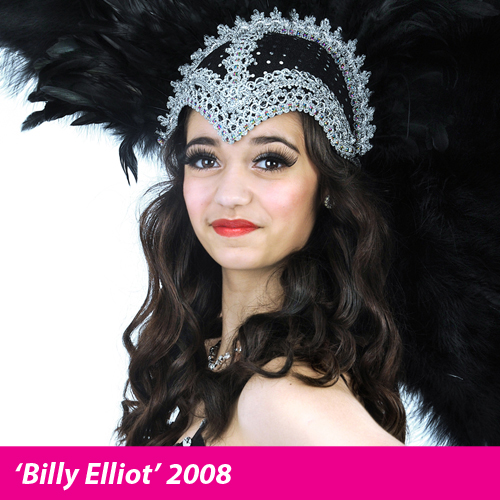 Ella Woodward
I studied tap, musical production and jazz with miss Laura from when I was about 10 right up to when I left to go to college at 16. Whilst I was there, I was lucky enough to perform as one of the ballet girls "Sharon Percy" in Billy Elliot at the Victoria Palace. I then went onto gain a place at Laine Theatre Arts where I studied for 3 years. Since graduating I have performed in various pantomimes, worked onboard two cruise ships for P&O Australia, and appeared in the Disney feature film "Beauty and the Beast". I would like to thank Miss Laura for the best time at LBDA, you really made a hobby so much for than just fun!
Scarlett Flannery
I joined Lbda when I was 5 years old. I have done many classes.. modern, tap, drama, lyrical, ballet, street jazz, singing, musical production (which is my favourite). Theatre credits: Oliver at Ashcroft Theatre, Peter Pan Pantomime at the Ashcroft Theatre, "Pepper " in the Annie UK tour, and most recently appeared in 'Bugsy Malone, Churchill theatre.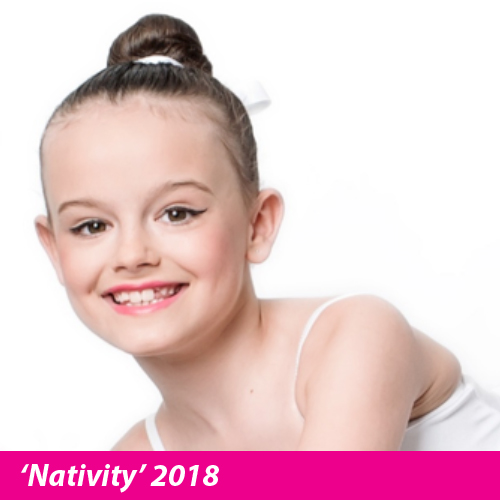 Bella Perdoni
Hi my name is Bella, I am 9 years old and have always had a passion for dancing and performing since I was little. I joined Laura Bruce Dance Academy in March 2017 and have loved every minute! The classes I currently take are Street Jazz, Lyrical, Ballet, Modern, Tap and will soon be starting singing classes. Since joining LBDA I have performed at two of their amazing summer shows at the Stag Theatre in Sevenoaks and in December 2017 appeared in Snow White and the Seven Dwarfs at the Churchill Theatre Bromley. I have also just successfully auditioned for a cast role in Nativity The Musical at the Hammersmith Hippadrome which I am really excited about. The teachers are LBDA are fantastic and i have made lots of special friends since joining! LBDA Rocks!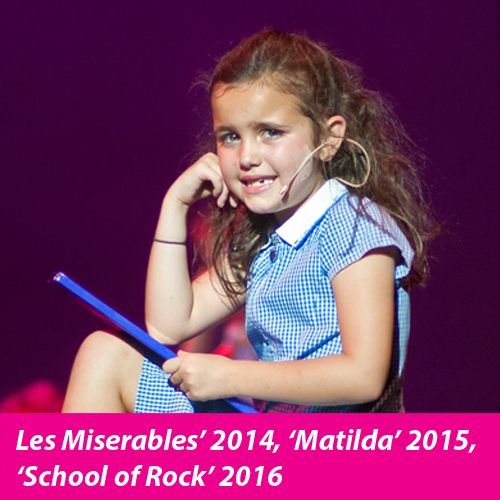 Eva Trodd
I have been attending LBDA since I was 5. I did every class going and learned so much about singing dancing and performing. When I was 8 Miss Laura sent me for an audition in London and I was lucky enough to be cast in my first West End show 'Les Miserables' I went on to perform 'Matilda the Musical' AND 'School of Rock'. I am now in full time ballet school YDA and have been on tour with English National Ballet with 'La Sylphide'. Thanks to LBDA for everything you've taught me... I love you all very much! Eva X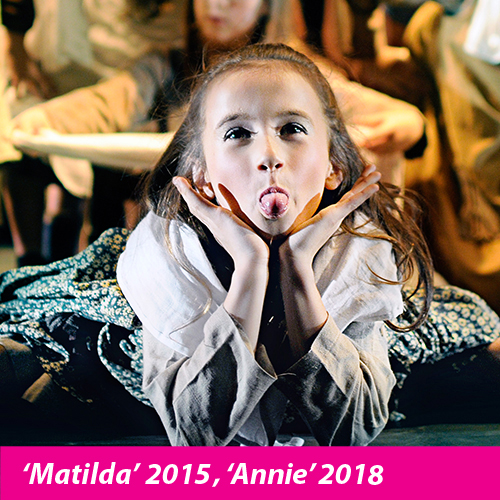 Hannah Hutchins
I think I was 6 when I joined LBDA and my training here has opened up so many amazing opportunities and exciting experiences for me. At only age 8 Miss Laura recognised my passion and successfully encouraged me to audition for an local amateur production of Oliver, then The Churchill Theatre Panto and The Royal Ballet School, that's when I knew dancing and performing was what I wanted to do for the rest of my life. At age 9 I was cast in the role of Amanda in West End's Matilda the Musical and last year as July in Annie Westend. I also appeared on stage in a semi professional production of Made in Dagenham. Although appearing on 3 ITV shows, and dancing in front of the Queen for her birthday the most exciting was when LBDA were invited to perform at a private Christmas function hosted by Cheryl Cole and Olly Murs, we travelled in a limousine and had a magical night. I have just been independently chosen to receive a scholarship award from The Stage Magazine (the industry paper). They were very keen and impressed to learn where I had trained. LBDA is my second family, I feel happy and safe amongst the best of friends and having fun whilst still receiving the best training, from amazingly enthusiastic and dedicated teachers. I have completed all my dance exams in ballet, tap and modern and have performed in every LBDA show since I was 6, each year they get bigger and better. Although I dance full time now in London as a scholarship student at Italia Conti since Yr7, I still rush home on the train twice a week without fail, to attend tap and modern classes with Miss Laura and Miss Katie.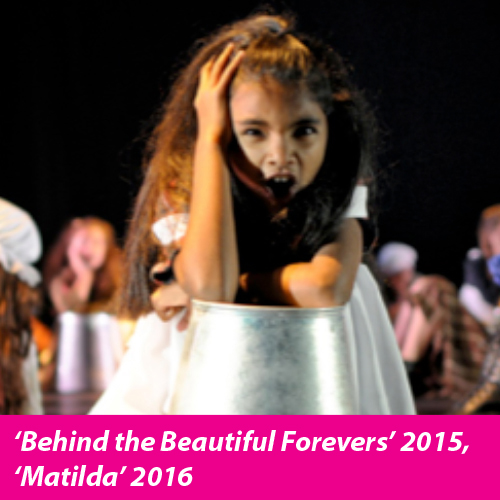 Tia Palamathanan
I am 12 years old and have been at LBDA since I was 2 and a half. I love dancing and practically do all the classes LBDA has to offer! I love them all but Modern is my favourite. One of my most memorable experiences at LBDA was dancing in the parade at Disneyland Paris - it was so much fun! I have been lucky enough to be cast in 2 West End shows - Noori in 'Behind the Beautiful Forevers' at The National Theatre and Alice in 'Matilda the Musical'. I have also starred in an episode of 'Call the Midwife' and 'The Great British Sewing Bee'. These were all special experiences and I would not have been able to achieve them without the training I have had and continue to receive at LBDA.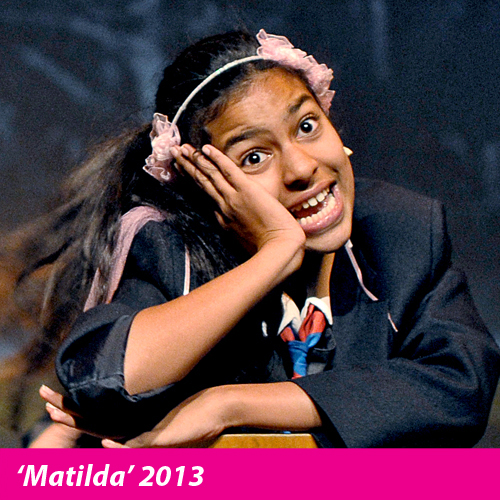 Talia Palamathanan
I've been dancing at LBDA for 12 years including Tap, Modern, Ballet, Commercial, Drama, Singing and Musical Production. The wonderful teaching at LBDA has given me a great platform and enabled me to successfully audition and gain a place at The Brit School. At the age of 9 years old, I was selected to train with Disney in The Lion King Cub School programme. I am very proud to say that I was the first pupil at LBDA to be cast into Matilda the Musical in the West End in 2013 which I also performed live on stage at Children in Need. This lead to other successes such as being cast as Pav in CBBC's Hank Zipzer, appearing in Michael Buble and Idina Menzel's 'Baby its Cold Outside' music video and various other corporate films and adverts. Commercial dance and Hip Hip are my favourite styles. I have also performed on the Main Stage at Move It with BGT finalists Flawless as well as performing at The Roundhouse in Zoo Nations The Mad Hatters Tea Party, Dance Proms at The Royal Albert Hall and Dancers Delight. I hope to go on and pursue Musical Theatre as my career, LBDA will always be a part of my journey.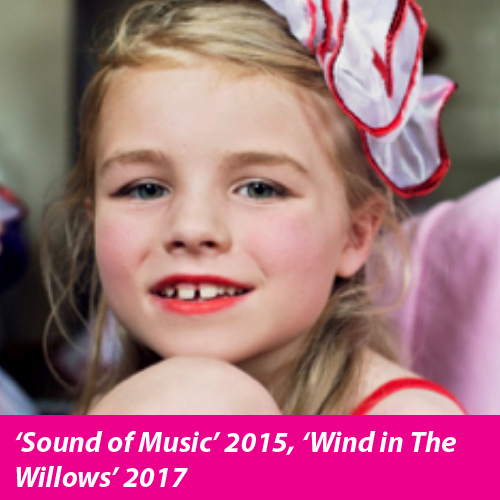 Sylvie Erskine
I'm Sylvie and i am a student at Laura Bruce Dance Academy. At LBDA I do several classes including street jazz, tap, street dance, modern, musical theatre and singing. I very much enjoy these classes and they give me lots of confidence in different styles of dance. I have also been fortunate to take part in some musicals including Les Miserables, The Sound Of Music UK tour, Wind In The Willows and a Christmas Carol.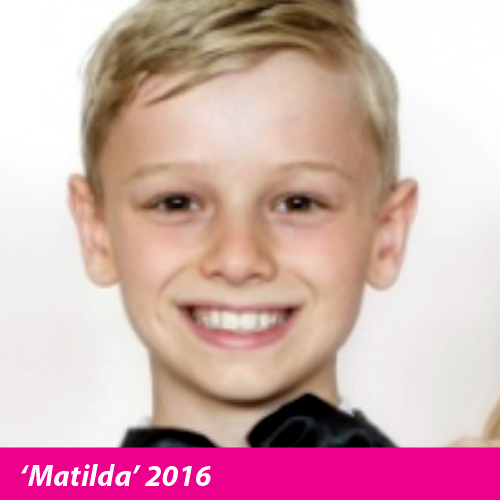 Sam Jennings
My name is Sam Jennings and I am 12 years old. I have danced at LBDA since I was 4 years old. I take Tap, Modern, Street Jazz and Lyrical Jazz. I have only ever received distinctions in all the exams I have taken. My favourite class is Lyrical Jazz and one day I would love to be Billy Elliot! One of my favourite events at LBDA is LBDA has Talent which I entered and won the overall trophy. I also loved our trip to Disneyland Paris. My training at LBDA led to my West End debut in Matilda the Musical starring as Nigel. I am the first and only boy at LBDA to ever be cast in the West End. I will always be thankful to LBDA for this.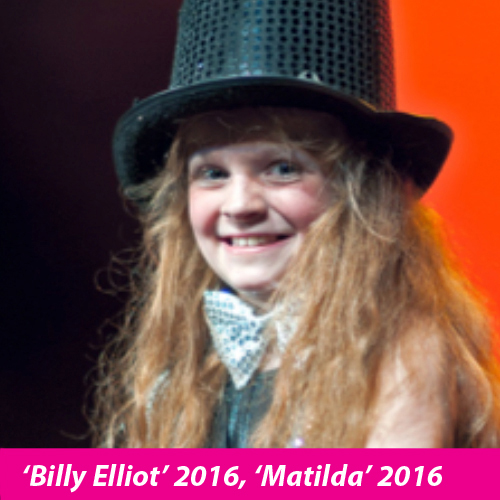 Scarlett Wennink
I have attended LBDA since I was 5, so for the past 9 years. I started off with tap and modern classes but I soon added Musical Production and Street Jazz. Over the years I have also taken singing, drama and lyrical lessons and more recently I started in the Senior Street Crew and competition team which I love. When I was 9/10 the teachers at LBDA put me forward and gave me the confidence to audition for Matilda the Musical and Billy Elliot and I was lucky enough to be chosen for both. I was part of the last cast for Billy Elliot, West End as one of the Ballet Girls which was the most amazing and fun experience and something I will never forget and I played the part of Hortensia in Matilda the Musical, West End for 2 contracts. Again it was an unbelievable experience and I feel so lucky. I now attend Arts Educational School in Chiswick which is a full time vocational school. I have less time for dance classes outside of school at the moment but I always make sure I attend at least one class a week at LBDA. It is very close to my heart and like a family and all of the teachers are extremely encouraging and supportive. They have given me so many opportunities and experiences and I am so grateful to them for that.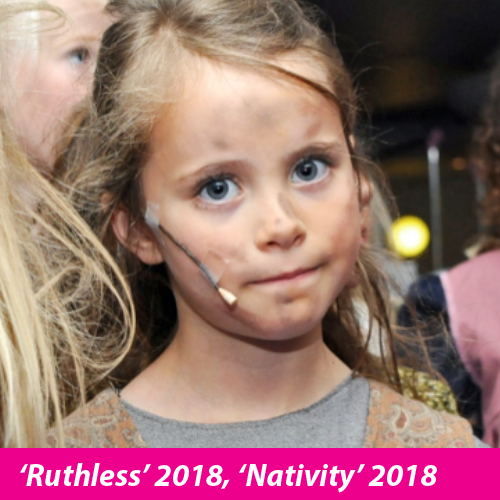 Charlotte Breen
I have trained at LBDA for many years taking classes in Tap, Modern, Drama, Musical Production, Singing, Street Dance and Lyrical Jazz. This year I successfully auditioned for a West End Musical called 'Ruthless' where I played the lead role. I have also been selected to perform in 'Nativity' this Christmas and the Hammersmith Hippodrome. I have performed in several pantomimes with LBDA at the Churchill Theatre, Bromley as well as performing in all the LBDA shows.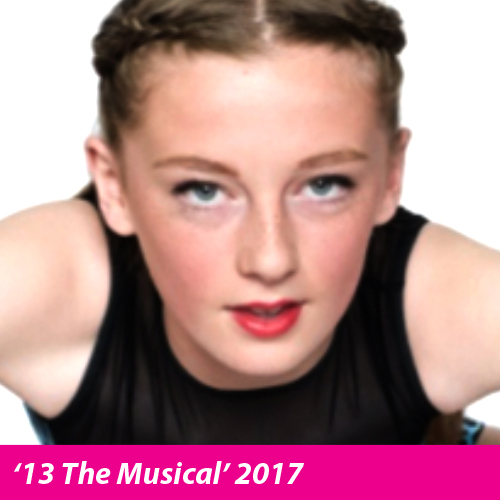 Poppy Watts
I started dancing at LBDA when I was 9,barely knowing anybody, the first show that I got into through LBDA was the Churchill pantomime of Cinderella this helped me make so many new friends these in which have turned into friends for life. Also I was lucky enough to get into the west end production of 13 the musical which was even more amazing experience when it got extended to Cornwall, meaning I had the opportunity to dance at the Minack theatre on the coast, this single handedly made me realise how much I loved dancing. The atmosphere when I attend classes is always positive, I'm forever being pushed to dance my best! Dancing has now become a passion of mine and thanks to Miss Laura and Miss Katie something I would like to continue in the future.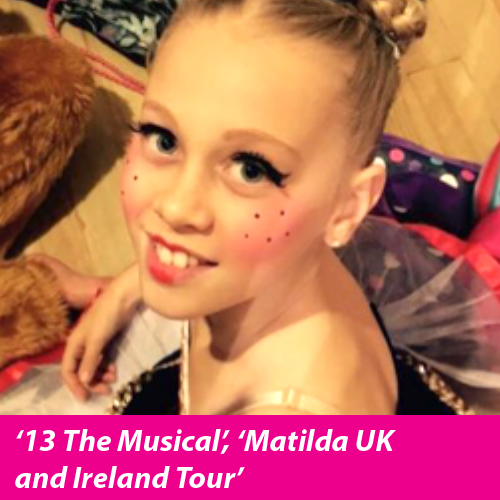 Sophie Young
I have been part of LBDA since I was a baby, watching my big sister from my car seat, waiting to be old enough to join in. I started Tap & Modern with lovely Miss Laura as soon as I was 3 years old & loved it. Since then I have been in every LBDA show (I'm nearly 13 now) & made some best friends for life. I went on to do Street Jazz, Lyrical & Drama which is great fun with Miss Charley. I auditioned for Miss Laura & Miss Katie to get the Pantomime at The Churchill Theatre Bromley for 2 years (Aladdin & Peter Pan) these were very professional & the best fun & with all my friends, especially at Xmas time. I danced in the "NutCracker" at St James Fare for Cheryl Cole & met Olly Murs. I've been lucky enough to be put forward for a few West End show auditions by Miss Laura at LBDA & was cast in the very first Uk & Ireland Tour of "Matilda" 2017-2018, I've just finished my contract & it's been the best 9 months of my life. LBDA definitely helped make my dream come true. LBDA ROCKS!!! .. it's a great school with wonderful teachers.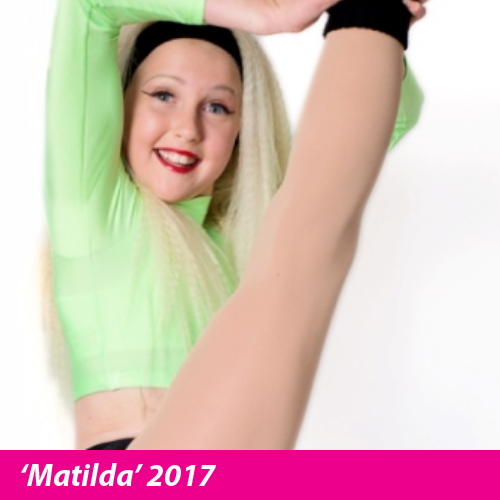 Vaidile Jonikiene
Hi. My name is Vaidile Jonikas and I am 12 years old. I have been at LBDA since I was 5 years old and I have really enjoyed being at LBDA. I have done all their classes, for example: modern, tap, lyrical, street jazz, ballet, musical production, singing and acting. Miss Laura and Miss Katie have made me progress throughout the years and have made me a more stronger and confident dancer. I love dancing at LBDA, because everyone is so friendly and kind to each other. In all of my modern exams I have got a distinction, but in my Grade 3 exam I got distinction with a score of 98%. That's the highest this school has ever got, and I would just like to say thank you so much to Miss Laura for helping me get this outstanding score!!! Also, I have performed at Churchill Theatre for 2 pantomimes - Aladdin and Peter Pan - it was an amazing experience. As well as them two pantomimes I have just been in a West End Musical, Matilda. If you are a child that would like to start dancing, singing or acting I would really recommend LBDA. Love Vaidile x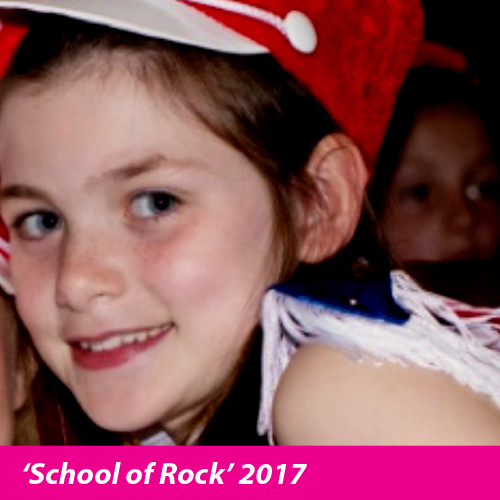 Phoebe Farnham
Phoebe joined LBDA when she was 5 years old and enthusiastically tried every class available for several years, eventually showing her strength in Drama and Musical Theatre. Professional Credits: 2014 - Hero child dancing/acting in Sony Music Pop Princess 4 TV advert. 2017 - " The Girl from the Song" -Escac Films - Role of Sophie. 2017 - Andrew Lloyd Webber's Olivier Award winning "School of Rock" - Role of Sophie. 2017 - "Magic of the Musicals" at The Royal Albert Hall - School of Rock Company. 2017 - "Tonight at the London Palladium" - ITV - School of Rock. 2017 - Headlining Children's Camp Bestival Festival - School of Rock. 2017 - School of Rock - Social Media Advert. 2017 - "What's on Stage" Best New Musical Award - for School of Rock - part of winning cast. 2018 - Feature Film "Amundsen" - With Oscar nominated Director - Espen Sandberg - Role of Mary Steel - shot in Prague - out in 2019. 2018 - "A Little Princess" - Premiere Musical at the Royal Festival Hall - Children's Ensemble Choir. Thank you so much to Miss Laura, Miss Charlie and Miss Katie xxx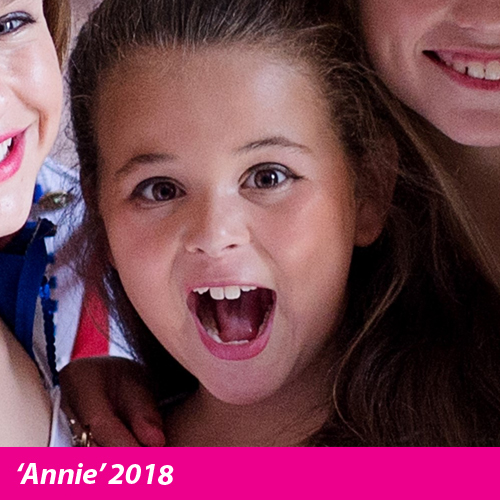 Frankie Robinson
Hello my name is Frankie and I am 11 years old. I joined the LBDA family just before I was 5 years old so have been dancing for 7 years. LBDA have supported my love of dance and I have been lucky to be selected for various shows. These have included Aladdin at the Churchill Theatre, Peter Pan at the Churchill Theatre, Snow White and the 7 dwarfs at the Churchill Theatre, Nutcracker at St James Fayre and Mardi Gras at Sadlers Wells. I have also done every LBDA summer show for the last 7 years. I attend lots of different dance classes including Tap, Modern, Ballet, Lyrical, Street Jazz, Street Crew, Musical Theatre and singing. However my absolute fave is Lyrical.<br /> In 2018 I successfully auditioned for the role of "Tessie" in the current Annie tour which I absolutely LOVE! I've had an amazing 7 years at LBDA and look forward to many more. LBDA teachers and pupils are the BEST!!! Love Frankie doo dars xxxxx